Food truck history
The rise of food trucks In the late 1750s, in Providence, Rhode Island, a young man named Walter Scott found a way to make extra money at the age of 17 - working late in the city people provide food. At that time, the restaurant closed at eight, and hungry workers needed a place to get home-cooked food quickly and easily. In 1872, Walter Scott began to use the carriage to go out and sell food, and the late-night snack business was booming.
Later, people in other cities improved the way of selling. They buy their own vans and call them "dinner carts" or "lunch carts." Gradually, some companies began to build lunch carts to look like the train cars of the time. The owners felt they should find a new name to draw attention to the train dining car, so they started calling their business a "dining car."

Food trucks survived the Great Depression of the 1830s. Americans without jobs at the time often ate in food trucks because it was cheap. After World War II, some businesses began to make food trucks like rockets and spaceships. The exterior of the dining cart is made of glossy stainless steel and features brightly colored neon signboards. And Food Truck owners are always looking for ways to make their "business" look trendier. So far, there are thousands of food trucks in the United States, and the Food Truck culture has been born from it.
Food Truck Market
Food Truck Rally is a very popular and large-scale Food Truck culture in New York, Los Angeles, San Francisco and other places in the United States in recent years. Usually at a certain time of the week, it will be held in open places such as parks. For example, in Brooklyn Park, New York, from June to October, on the third Sunday of every month, the New York Food Truck Alliance will organize a Food Truck market.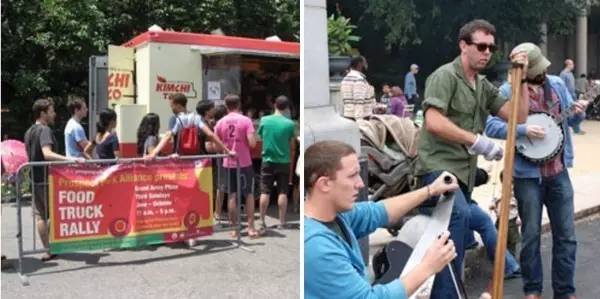 The Food Truck market is similar to weekend markets in other countries or food stalls in festivals. It mainly focuses on fast food and snacks, and the prices are very close to the people. Compared with expensive urban restaurants, dining car food provides a new taste experience for the public and even tourists, and even many tourists come here especially for some popular dining cars.
Personalized dining car appreciation